1) Use the library instead of buying books: I put three more books on hold this week (Miriam Toew's new one, Elizabeth Hay's new one and Janet Evanovich's new one) and will get a call when they are ready. Yay! Even more with the yay though-I went onto my Chapter's account and cancelled all the books I had on pre-order. I figure that I've saved around $200.00 by spending five minutes and doing this. $200.00 that will not sit on my credit card.
2) Starbucks: I'm caught-up from my Lent gaffs but I think that I will make Starbucks a rare treat instead of an everyday occurance. I was shocked by how much I saved. I even made it through our big birthday month and a car repair without going over my budget. I think that this is the first April ever that I've not ended-up in a hole.
3) Not buying any new clothes: I have to say that this is the hardest challenge of them all. The weather is clearing-up and all the spring/summer shoes are literally CALLING TO ME!!!!! These ones in particular are hounding me like an election poll caller.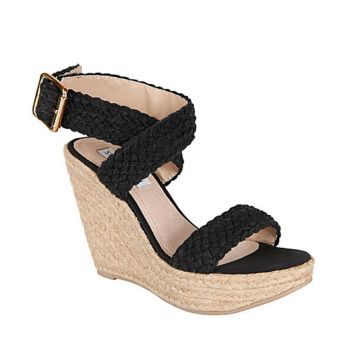 BUT what I will do instead is sort out the shoes in the front closet, my bedroom closet and a random bag of them downstairs. Oh…and there is likely a pair in the car.
My massive clean-out has led me to discovering a problem. I've noticed a number of odd holes in some of my sweaters. Then I saw a flutter and a MOTH. Ruddy thing! It's gone to the great beyond now, I had to get rid of two sweaters that just could not get patched or mended and now "this is war". I found a nifty site and will be taking all of their suggestions.
http://tipnut.com/how-to-get-rid-of-moths-with-natural-repellents/
Moth Repellent Sachet Recipes
■50/50 rosemary and mint
■1 part dried lavender, 1 part rosemary, 1/2 part dried lemon peel, 1 TBS cloves
■1 part whole cloves, 1 part whole peppercorns, 2 – 4 cinnamon sticks broken in pieces
■1 part dried lavender, 1 part dried lemon peel, 1 broken cinnamon stick
■1 part cedar shavings, 1 part thyme
■1 part peppermint, 1 part spearmint, 1 part rosemary, 1/2 part thyme
You can mix and match your own recipes, or just use 100% one ingredient if you like.
Tips
■Replace sachets with fresh ones annually. The stronger the fragrance, the better it repels moths.
■To help protect your clothes and linens from the attention of moths, make sure items are laundered and clean before storing away. It also helps to seal items in plastic if possible.
■If you know moths have discovered your storage area, kill larvae by dry cleaning, freezing cloth items for a few days or wash then tumble in the dryer on high heat (if possible). Clean the storage area thoroughly before using again.
4) Improving my photography: My goal this week is to only use natural light. Fingers crossed.
Here are the Rolly Pollies from the other day.
5) This week's pantry challenge is going to be: Project Bran Flakes. This is far from my favourite cereal and is one of the items that my father-in-law brought from his pantry. I do remember a good recipe for muffins though that calls for a healthy portion of them that I will hunt down.
In the meantime, Monday's Muffins are going to be Lemon Sticky Buns. I don't think they will last long but they are really good right now.
http://delectabledeliciousness.blogspot.com/2010/04/lemon-sticky-rolls-and-giveaway.html
Lemon Sticky Rolls
makes 12 large rolls
Lemon Roll Dough
1 envelope (0.25 ounces, or 2 1/2 teaspoons) yeast

3/4 cup milk, warmed to about 100°F or warm but not hot on your wrist
1/2 cup (1 stick) unsalted butter, very soft
1/4 cup white sugar
2 teaspoons vanilla extract
4 1/2 cups flour
1/2 teaspoon salt
1/2 teaspoon nutmeg
2 lemons, zested (I used Meyer lemons)
2 eggs
Sticky Lemon Filling
1 cup sugar
1/4 teaspoon freshly-ground nutmeg
1/2 teaspoon powdered ginger
2 lemons, zested and juiced
3 tablespoons unsalted butter, very soft
Lemon Cream Cheese Glaze
4 ounces cream cheese, softened
Juice of 1 lemon
1 cup powdered sugar
1 lemon, zested
In the bowl of a stand mixer, sprinkle the yeast over the warmed milk and let it sit for a couple minutes. With the mixer paddle, stir in the softened butter, sugar, vanilla, and one cup of the flour. Stir in the salt, nutmeg, and lemon zest. Stir in the eggs and enough of the remaining flour to make a soft yet sticky dough.
Switch to the dough hook and knead for about 5 minutes, or until the dough is elastic and pliable.
(If you do not have a stand mixer, stir together the ingredients by hand, then turn the soft dough out onto a lightly floured counter top. Knead the dough by hand for 5 to 7 minutes, or until the dough is smooth, pliable, and stretchy.)
Spray the top of the dough with vegetable oil, and turn the dough over so it is coated in oil. Cover the bowl with plastic wrap and a towel and let the dough rise until nearly doubled – about an hour.
In a small bowl, mix the sugar with the nutmeg and ginger, then work in the lemon zest with the tips of your fingers until the sugar resembles wet, soft sand. Stir in the juice of 1 lemon. (Reserve the juice of the second lemon for the glaze.)
Lightly grease a 13×9 inch baking dish with baking spray or butter. On a floured surface pat the dough out into a large yet still thick rectangle — about 10×15 inches. Spread evenly with the softened butter, then pour and spread the lemon-sugar mixture over top. Roll the dough up tightly, starting from the top long end. Cut the long dough roll into 12 even rolls, and place them, cut side up, in the prepared baking dish.
Cover the rolls with a towel and let them rise for an hour or until puffy and nearly doubled. (You can also refrigerate the rolls at this point. Cover the pan tightly with plastic wrap, and place it in the refrigerator for up to 24 hours. When you are ready to bake the rolls, remove the pan from the fridge, and let them rise for an hour. If you do this, be prepared for a lot of the filling to have leaked into the bottom of your pan!)
Heat the oven to 350°F. Place the risen rolls in the oven and bake for 35 minutes or until a thermometer inserted into a center roll reads 190°F.
While the rolls are baking, prepare the glaze. In a small food processor (or with a mixer, or a sturdy whisk), whip the cream cheese until light and fluffy. Add the lemon juice and blend until well combined. Add the powdered sugar and blend until smooth and creamy.
When the rolls are done, smear them with the cream cheese glaze, and sprinkle the zest of 1 additional lemon over top to garnish. Serve while warm. Jane's note: I didn't make this glaze. I simply mix a bit of lemon juice and icing sugar together and they were great.